It is rather sad how the community spirit in many neighbourhoods has all but disappeared. People used to rely on their neighbours now they either don't know them or have a tendency to fall out with them.  Everyone is too busy dealing with their own lives to pay any attention to their neighbours but surely life would be better if we had more connection with the people who are so near to us and yet in many ways so far away.
Falling Out
I know to my cost how easy it is to fall out with your neighbours when you haven't developed a relationship with them. I didn't speak to the people next door for months after my pleas failed to prevent their sons using my fence as a backstop for their football practice. When a football crashed through the fence and struck a guest in my garden I blew a fuse and then blew another one when the neighbours took the best part of a year to get around to repairing the damage.
Building Bridges
These days after a very frosty beginning, we get along very well and speak often. On reflection it took a ridiculously long time to build a good relationship as resentment had clearly been simmering on both sides. Resentment which probably would not have developed had we made more of an effort from the time that my neighbours moved in.
For Any Occasion
I have come to think that every neighbourhood would benefit from getting together occasionally and perhaps one of the best ways to achieve this would be to arrange a street party. There are any number of occasions which present a good excuse for a celebration and a street party is something that everyone can contribute to and then enjoy.
Planning
Clearly there are some potential issues to consider before you set out the tables and the bunting. You would need to talk to everyone to see how they feel about the idea and it is only worth proceeding if you have a decent level of support. You would need to ensure that your event doesn't clash with anything significant that would keep people away and you would have to consult with the council about closing the road. There shouldn't be a problem here if you are not on a major thoroughfare or bus route. If you are then you could choose another venue like a local park. Wherever you hold your party make sure that you attend to any safety issues.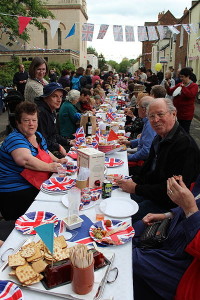 Between all of your neighbours you should be able to muster enough food and decorations for the party and if chairs and tables are a problem then they can be hired at a reasonable cost. You could lay on some entertainment which would be best provided by locals to maintain the community spirit.
Appeal to the Kids
If the adults lack the enthusiasm for a party then you can be sure that the kids will buy into the idea. If all else fails arrange a kids' party in the street or hold your own kids' birthday parties outside and invite everyone in the road to attend.
A Street party could be a memorable occasion that brings neighbours together and lays the foundations for better relationships in the future. Good neighbours make life so much easier but you have to get to know people and to understand them before productive relationships can develop.
Article by Sally Stacey